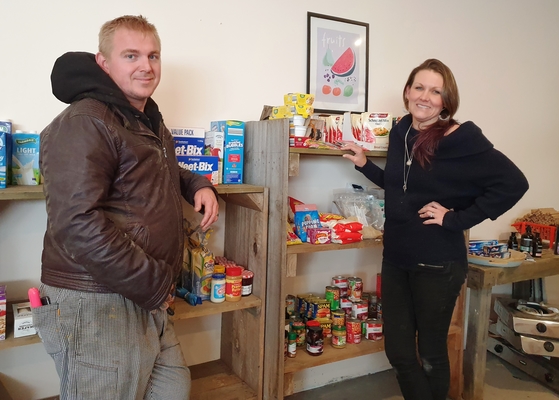 One wise woman and one wise man are about to make Christmas a whole lot merrier for local families.
The founders of the fast growing charity, Feed Me Bellarine, Lana Purcell and chef Anthony Woodbury are about to launch an important second stage of their community project.
Opening in early December in their Sinclair Street headquarters will be Ocean Grove's newest and most innovative supermarket, the Wasted Mini Mart.
The mini market is set up with the goal of providing high quality rescue food to the general public, as well as those in genuine need. The speedy fit out of the shop is being achieved through the use of donated goods and second hand goods sourced by Lana and Anthony.
The charity is already helping around 200 struggling families across the Bellarine and all funds raised in the supermarket will go straight to expanding this important work.
"We were just sitting around chatting a month ago about how else we could use all the rescue food that we are being donated and because it is of such high quality we thought how we could help the general public benefit as well," Feed me Bellarine co-founder Lana Purcell said.
"So this way we are cutting down on food wastage, giving the general public a chance to contribute to those who are struggling in their community, as well as cutting back on their own grocery costs.
"Anyone can come in and use this supermarket to help themselves, but we will also be introducing a pay it forward system whereby people can also purchase extra food that can be used to provide meals for struggling families."
The charity headquarters in Ocean Grove's industrial estate is a constant stream of activity with people arriving with donations of food, furniture and equipment while groups of volunteers meet in corners, while other volunteers cook up a tsunami of nutritious food in the back kitchen.
"Lana and Anthony are our shooting stars," one volunteer said.
"Our job is just to try and help them down here on the ground so that it can all come together."
The pair's vision has the potential to change the country's attitude to food and the way it is distributed and their charity is attracting the attention of community, business and political leaders who can see the potential of their vision.
The work of this amazingly energetic duo is supported at the moment by about 20regular volunteers but as their charity expands they are going to need more and more helping hands.
Fellow founder Anthony says the supermarket will be open from 9am until after school pick up and is amazed at how quickly the project has come together.
"Obviously the stock is going to vary depending on donations but we will keep people informed through social media," Anthony said.
"We will always be looking for donations of pantry staples like flour and sugar which can be sold and also used to make food for our families in need."
Anyone interested in becoming a volunteer or becoming a regular donor or just supporter of this charity should make contact via the Feed Me Bellarine Facebook site.