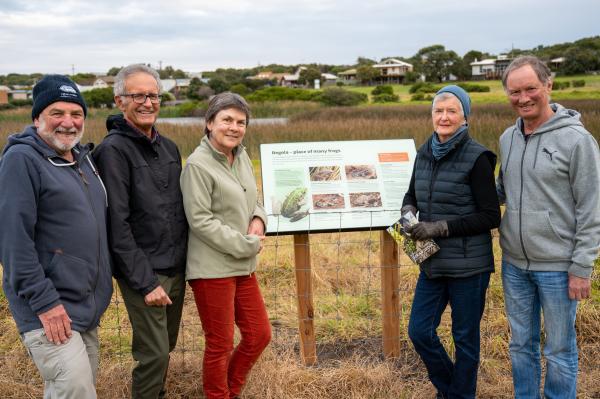 By Justin Flynn
Friends of the Begola Wetland (FOBW) hope that new interpretive signs installed at at the wetlands will educate school groups and individuals.
FOBW successfully applied for an environment and sustainability grant of more than $5000 from the City of Greater Geelong to install the signs.
FOBW vice-president and local graphic designer Chris Tsernjavski helped design the three signs for the interpretive information boards.
FOBW secretary Bill Harrison said school groups had already inquired about touring the wetlands with the aid of the signs.
"With the information boards they will be a great aid for the teachers," he said.
"They are modern and sharp. We are happy for volunteers to take groups around.
"Sometimes an information board can have too much information and be overloaded and people move on pretty quickly, but these have nice sharp photos."
The three interpretive information boards aim to support community interest in the Begola Wetland, located in Ocean Grove. The boards reflect the nature of wetlands, fly-in fly-out bird life visitors and Begola, place of many frogs.
They will also serve as a focal point for education about seasonal changes, such as the birth of cygnets, arrival of the Latham's snipe from Japan, presence of the rare growling grass frogs and the many other birds that frequent the wetland.
Mr Harrison said the lifespan of the signs were around five to six years.
"People walking around the area will have a bit more information so they can stop and read," he said.
"The big thing is education."