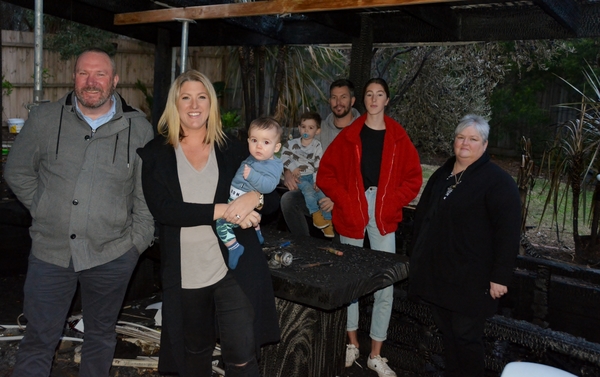 By Justin Flynn
An Ocean Grove couple that lost their entire backyard entertaining area to a fire has warned others to check their outdoor wood heating.
Kate Grinter and Matthew Oats and their two young children were awoken by neighbours after their backyard entertainment area went up in flames.
The fire was caused by the radiant heat from a pot belly stove being too close to treated pine sleepers.
The family was saved by Gary and Gail Tobin, who were driving past, and neighbour Brendon Smith.
"We are just forever grateful because we not only owe them our lives but our home too," Kate said.
"Had we lost the home then so be it, we can rebuild but
"The noise of these guys waking us up is going to haunt me for a bit."
Gary and Gail Tobin were driving past the Wallington Road residence at 6.15am when they noticed the flames.
"Gail said 'is that house on fire?'," Gary said.
"All of a sudden a big flame shot up from the back and I did a U-turn and parked out the front and ran out the back and looked over and the pergola's on fire.
"I went back out the front and rang triple zero."
Matthew said a simple compressed cement sheet instead of treated pine behind the stove, would have prevented the fire.
Matthew said it was a quick response from the CFA, which attended the fire in less than 10 minutes.
"They were notified before we were even awake," he said.
Matthew and Kate moved into the house a year ago and Matthew said he put the final log of wood onto the fire at 9pm.
It took nine hours for the wood panel to ignite.
Kate said she felt bad for her next-door neighbours, who awoke thinking the family had been trapped in the fire.
"They've heard everyone screaming and they thought we were all trapped in the house and that makes me feel sick that they went through that," she said.
"Everyone's been affected in some way.
"It could have been so much worse. We are very lucky and our fire alarms did work, but fortunately enough we were out of the house by then."
Gary said he was glad the story had a relatively happy ending.
"It was good to see them coming out (of the house)," he said.
"I'm just glad I could assist and everyone's happy.
"It would have only been another minute or two and it (the fire) would have just taken hold."