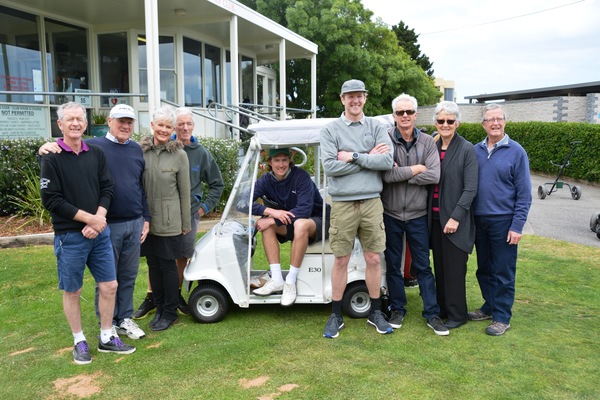 By Justin Flynn
Allen Cover loved golf and he loved Ocean Grove Golf Club even more.
Mr Cover was made an honorary member for life at the club in 2018 and has a tournament named after him – the Allen Cover Cup.
Mr Cover passed away, aged 100, recently.
Mr Cover would have been delighted to see nearly 100 golfers compete in the tournament at the club where he played golf every Friday.
Well over 100 people enjoyed lunch and festivities after the tournament.
Mr Cover had plenty of family at the event to honour his memory, including grandson Tyron.
"It's a special day for the family and this is our way of remembering Allen now," Tyron, 26, said.
"In the past it's been to celebrate when he turned 90 as a playing member.
"Not many members still play when they are 90.
"It's a good thing from now on to remember him each year and for golf club, which he was a part of over a lot of years."
Tyron, now a school teacher in Shepparton and a very good golfer himself, said it was his grandfather who got him into the sport.
"He got me into golf when I was really young," he said.
"I didn't love it too much. I think we just played a few holes and then came down again early high school for me and had a game and I got the bug a little bit.
"I certainly played a lot of golf with him when I was starting out in those first few years.
"It was a good grandson-grandfather thing to do together and I got to know him really by spending a lot of hours out on the golf course. It was good to chat and we had a strong connection through playing golf together."
A service to celebrate Allen Cover's life was held at Ocean Grove Uniting Church on Thursday 10 October.