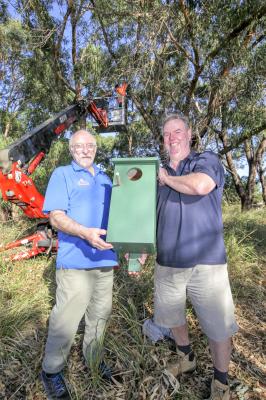 Native fauna on the Bellarine Peninsula will benefit through the work of local groups who are building and distributing nesting boxes.
Bellarine Landcare Group has partnered with St Leonards Men's Shed to build nest boxes to suit a range of local wildlife species. These include rosella, parrots, microbats, kookaburras and possums.
Bob Evans from St Leonard's Men's Shed said the nesting boxes support the Bellarine Landcare program and local wildlife conservation strategies by local landowners and land management agencies.
"The program also gives our shed a chance to contribute, using our expert carpentry skills, to a great wildlife program – so everyone is a winner," he said.
Vegetation clearance over many years has resulted in a dramatic reduction in tree hollows for local wildlife to live and breed in.
However since 2017 more than 100 nesting boxes have been installed at reserves and on private land across the Bellarine.
Nest boxes were installed in Point Richards, Lower Bluff and St Leonards Lake reserves with the support of local 'friends' groups, schools and agencies, such as Bellarine Bayside, Bellarine Catchment Network, St Leonards Primary School and City of Greater Geelong.
The nesting box program includes use of a specially designed camera to assess the occupation and breeding success of the nesting animals.
The camera was purchased through a donation from the Swan Bay Environment Association.
Individuals and community groups are encouraged to become involved in the wildlife nesting box program.
Nest box order forms, information sheets and advice on this program are available from Bellarine Landcare Group.