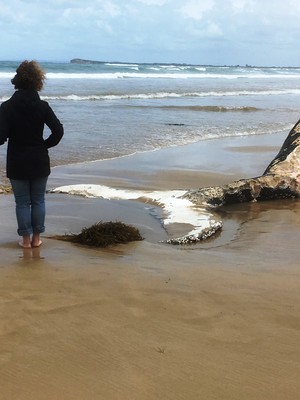 Department of Environment, Land, Water and Planning (DELWP) officers are responding to a dead whale that washed up on the beach at Collendina.
Members of the public reported seeing a whale carcass in shallow water this morning.
DELWP Regional Agency Commander Aimee Haywood said: "Early indications suggest it is a humpback whale in an advanced state of decomposition.
"Specialist DELWP personnel are on-site to assess the situation.
"Our primary concern for public safety is around an expected increase in shark activity in the area.
"Sharks are attracted to any site where there are decomposing carcasses, which poses a safety risk for anyone entering the water.
"We strongly advise members of the public to avoid swimming in the area.
"As this beach is also a popular site for dog walking, we're reminding owners to keep their dogs on-lead and under control at all times.
"Signage will be in place to warn of the hazards in the area.
"Whale remains are protected by law and must not be interfered with.
"We ask any beach goers to please keep their distance as the carcass is badly deteriorated and may be emitting harmful pathogens and a strong smell.
"Water quality impacts due to the whale's decomposition are unlikely."
An exclusion zone will be established around the carcass as wildlife officers determine if it is able to be moved.
For up to date advice and warnings please visit www.emv.vic.gov.au
Any sightings of whales in distress should be reported to the whale and dolphin emergency hotline on 1300 136 017.