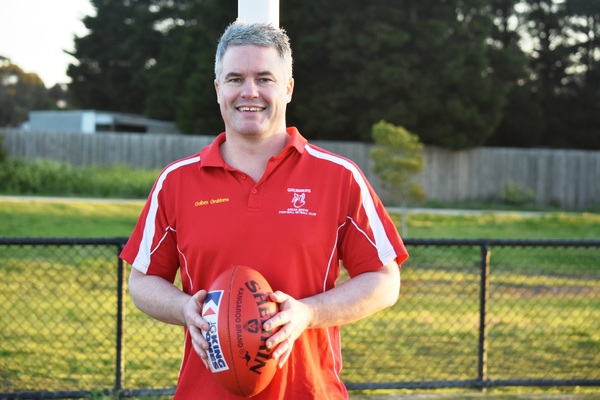 By Justin Flynn
There will be no senior football or netball for premiership points this year.
AFL Barwon last week cancelled the Bellarine Football Netball League season with 79 per cent of senior clubs across all competitions (GFNL, BFNL, CDFNL, GDFNL) saying they would not support a premiership season or were accepting of a final AFL Barwon Commission decision.
Junior football and netball is set to proceed, but details of how have not been finalised.
Ocean Grove coach Pete Davey said he accepted the decision to cancel the season.
"There's been a number of feelings playing out since Tuesday," he told the Voice.
"Disappointed is obvious but there's also a sense of relief that the decision has finally been made. The hardest part about all of this has been the 'not knowing', at least we can plan for the future now. The coaching staff and players are all pretty much on the same page there."
Davey said the playing list was "flying" on the training track and that it was "healthy and rock-hard fit".
"The COVID hiatus was difficult to manage but we felt we were in a better position to play after the break than most clubs would have been and that was due to the quantity and quality of personnel training," he said.
Davey said he would have picked "at least 12" Under-19 players in his round one senior side.
"We'll be training those boys and holding them to standards, as if they were our senior side, to get them as ready as we can for 2021," he said.
"We will also be scheduling weekly events for the senior group, just to ensure that everyone remains connected. The worry for every club is that players will drop off and not return to football so we will do everything we can to keep the boys engaged and part of the club, even though there won't be any formal season."
Davey said 2020 was going to be a year where he "aimed to set acceptable standards, create a positive culture and a commitment to turning up for the community as best we can".
"We expect to be very competitive in 2021 and have already entered conversations with several recruits for next season who all tick the boxes as far as character, skill and age that we're looking for. We expect to make a very sharp rise up the ladder."
Barwon Heads president Tim Goddard said, although disappointed, the reigning premiers supported the decision.
"Whilst the BHFNC is disappointed that the season has been cancelled, we fully support the decision made by AFL Barwon," he said.
"We will support our junior footy and netball programs and our senior womens footy teams when a decision is made on how their seasons look.
"We are a strong and united club and believe that despite the pandemic and the cancellation of the season, we look forward to building our culture, uniting our playing lists and readying our 2019 premiership flag for its unfurling in 2021."
Drysdale junior vice-president Ben Reyment had similar thoughts.
"While disappointed the BFL won't be going ahead for 2020, we understand this is done for the health of our players, coaches and community, as well as ensuring the financial success of clubs," he said.
"We have some amazing sponsors and club people who have been really supportive of different fundraising efforts and sponsorship so far this year, which has ensured we were ready for whatever 2020 threw at us.
"We also know not all clubs are in as strong a position. We will now put our focus onto retaining our 2020 playing list, as well as adding to that list for 2021. We still have some home-grown players playing in higher levels across the country that we would love to see in brown and gold again."
"We also hope the planned junior and women's seasons can provide everyone with some footy later in the year.
"Our junior section has always been really strong, and our women's teams continue to flourish.
"We hope we can get our senior players and coaches invested across these teams, and continue to build a strong culture across the club for the future."