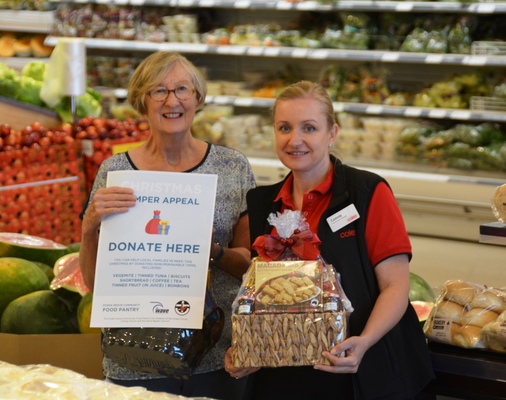 Generous locals donated more than 700 items of non-perishable food items during December as part of the Ocean Grove Community Food Appeal Christmas Appeal at Coles Ocean Grove.
This Christmas appeal was the brainchild of Connie Biddle who works in customer service at Coles Ocean Grove.
Connie's initiative provided Ocean Grove residents with an opportunity during the Christmas season to donate to a local charity at this time of year.
The overwhelming generosity of the Ocean Grove community ensured that people in need in Ocean Grove received food and other help at Christmas.
The Ocean Grove Community Food Appeal is an initiative of the Ocean Grove Uniting Church and the Wave Baptist Church and operates weekly on Fridays between 6pm and 6.45pm at Ocean Grove Uniting Church on the corner of Eggleston Street and The Parade.
The way in which the local community supported the appeal was greatly appreciated by those who access the food appeal.
One recipient wrote: "Merry Christmas to all you food donors! I thank you with all my heart for the food and, as a consequence, the hope you have provided me. Your generosity has helped me to arise from a dark space. Have a Happy New Year".