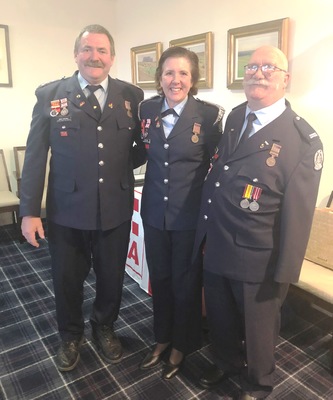 Barwon Heads Fire Brigade (BHFB) celebrated its service to the community at a formal dinner and awards night recently.
Attended by members of the brigade including Captain Helen Wood, 1st Lieutenant Brett Mitchell, 3rd Lieutenant Pete Burnett and 4th Lieutenant Matt Taylor, guests also included community supporters such as representatives from the All Saints Anglican Church Op Shop and members of the Ocean Grove Barwon Heads RSL Sub Branch. District 7 Operations Officer Ian Beswicke, performed official duties.
Captain Helen Wood said while members generally shunned the limelight in preference for letting their actions speak, it was important to acknowledge the role of the BHFB in protecting life and property in Barwon Heads, the Bellarine Peninsula and beyond.
"At the dinner we recognised the significant contribution members have made to the CFA and their community with a number of service awards presented and also awarded brigade life membership to three very worthy recipients," she said.
"Congratulations to all those recognised, I am very proud to be part of an organisation that does such valued work in the community – so far we have turned out to 50 incidents this year, and that requires team effort and ongoing commitment to being available and training throughout the year.
"In addition, we could not be as effective without the support of many local businesses and community organisations who regularly donate so that we may purchase vital equipment, so it is also an opportunity for us to say thank you very much for their ongoing support."
Awards were:
Five year awards: Kira Crawford-Brooks, Clive Moulday and Vivienne Moulday, Nathan Rabbitts.
15 Year Awards: Frances Pavey, Helen Wood.
Brigade Life Member Awards: Frances Pavey joined Barwon Heads Fire Brigade in March 2003 and was involved with the brigade's auxiliary, holding the position of president for a number of years, as well as brigade treasurer from July 2010 to September 2015. Frances received the Shaun Wilson Memorial 'Encouragement Award' in 2013.
Philip Pavey has 30 years' service with CFA, first joining Kyneton Fire Brigade in 1978. He has also been a member of Taradale and Seymour brigades, before transferring to Barwon Heads in September 2002. Phil was elected 4th Lieutenant and secretary/treasurer in 2004, became 3rd Lieutenant in 2006 and 1st Lieutenant in 2008. In 2009 Phil was elected captain and held this position until 2014. Phil was also 4th deputy group officer of the Bellarine Group from 2016 to 2018. Phil was awarded the National Medal in 2009, the First Clasp of the National Medal in 2015 and awarded CFA life membership in 2016.
Helen Wood joined Barwon Heads Fire Brigade in May 2003, quickly becoming a part of the brigade management team and holding nearly every position since then, before becoming captain in 2015. Helen was the brigade's firefighter of the year in 2010, was awarded the National Medal in 2015 and received the inaugural Ocean Grove Barwon Heads RSL sub branch award in 2017.
The Shaun Wilson Memorial 'Encouragement Award': Jye Quinney
Firefighter of the Year: Barb Cummins
Ocean Grove Barwon Heads RSL Sub Branch Award: Barb Cummins