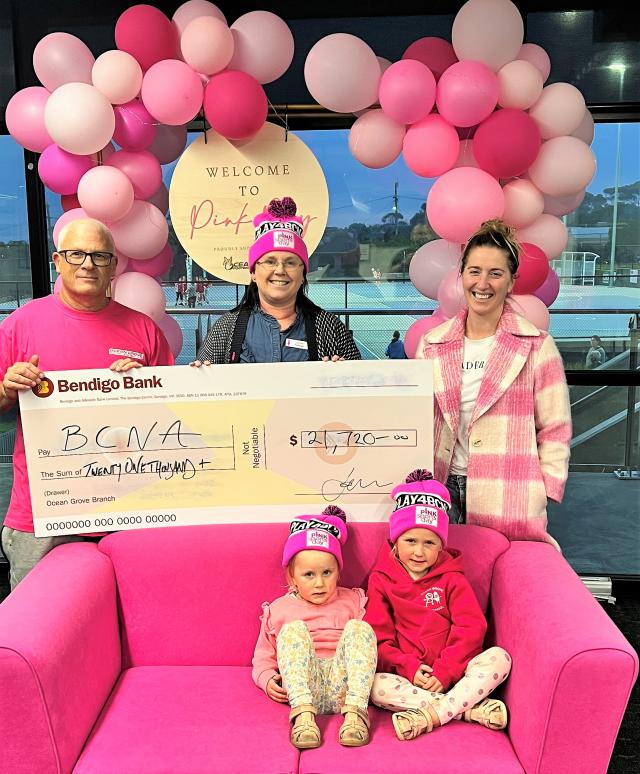 By Justin Flynn
Ocean Grove Football Netball Club's Pink Day just keeps getting bigger and bigger.
The club raised $21,700 for Breast Cancer Network Australia (BCNA) with 250 women enjoying an afternoon of fun during the club's home fixture against Drysdale.
The final tally eclipsed the previous best of around $14,000 and takes the overall total to more than $100,000 over the eight years the event has been run.
"Tickets were sold within two days and we launched a further 50 tickets and they sold within another three hours," Pink Day committee member Tahlia Sinnot said.
"It was a hot item. It started as a small function and has just grown."
Organisers were overwhelmed with donations for raffles and auctions.
"Ocean Grove Football Netball Club considers itself as a part of the community and this is one part that we think we thrive at and bring the community together and commit to a really good cause," club vice-president Tony Potter said.
"We're blown away," BCNA Pink Sports Day program manager Carmen Mullinger said.
"We are absolutely thrilled and shocked to be honest. Ocean Grove have been a long-term supporter of BCNA with this event."
Ms Mullinger said $21,700 "buys a significant amount".
"Just to provide a My Care kit that every woman gets post-surgery is costing in the order of $100," she said.
"Just to get that out to around $21,000, there's around 2000 women that have got a pack for free that would normally cost $1000.
"There are so many costs associated with breast cancer as it is, everything we do, we provide for free."
The event's major sponsors were Sinnott Plumbing, OneDay Estate and Driftwood Cafe.