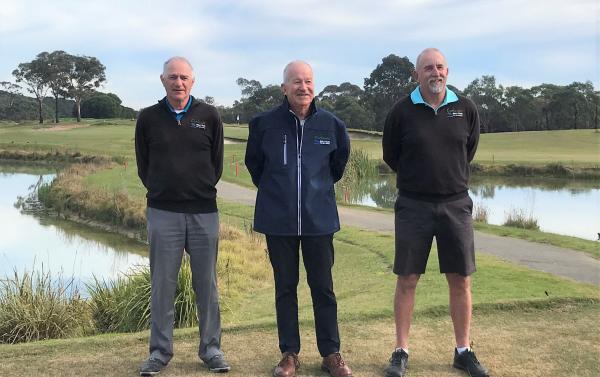 Meet Curlewis Golf Club's newest life members.
Ian Collings, Bernie Den Besten and Greg Bishop were given the honour recently and all three have had a profound impact, according to club president Georgie Sanders.
"It was a well deserved recognition of these three men who have given outstanding service to our club," she said.
"And, it is great to have some good news for a change.
"Their general attitude and overall demeanor shows dedication to the core values of the club. A commitment to good sportsmanship and leadership to members."
Ian Collings
Foundation member in 1970.
In the 1960s and early 1970s, Ian spent many hours planting couch grass and runners around the course.
Member general committee and house committee.
Handicapper for five years.
President Geelong and District Golf Association 1991-92
Vice-president of GDGA 1989-90, 1993-94.
Volunteer to ground staff 2007-present
Elected to represent members on ALC 2015-19.
Currently compiling CGC 50th anniversary history book covering the past 25 years.
A well-respected member who is passionate about CGC past present and in the future.
Bernie Den Besten
Joined 1974
Committee member 1980-92 chairperson house and bar committee.
Vice-captain bar 1989-92
Bar manager during managership of Matthew Loughnane and Steve Power
Committee member 2013-18
Club vice-captain 2015-16
Club captain 2017-18
Volunteer to ground staff 2009-present
Well-liked member who nurtured and encouraged new members to feel welcomed.
Always available to put his hand up when volunteers are asked to help organise events and functions.
Excellent negotiator on member issues/behaviour when required.
Greg Bishop
Joined CGC 1975 as a Junior member. Played Junior Pennant 1975-80
Adult Member since 1983
Member of committee of management 2006-15
Club vice-captain 2009-12
Club captain 2013-16
Geelong and District Association Curlewis delegate for six years.
Member GDGA committee for four years
Strong involvement in Men's Pennant management and play.
Passion for junior golf. Often seen playing with budding juniors ensuring their commitment to course etiquette and rules maintained.
Volunteer to ground staff 2007-present