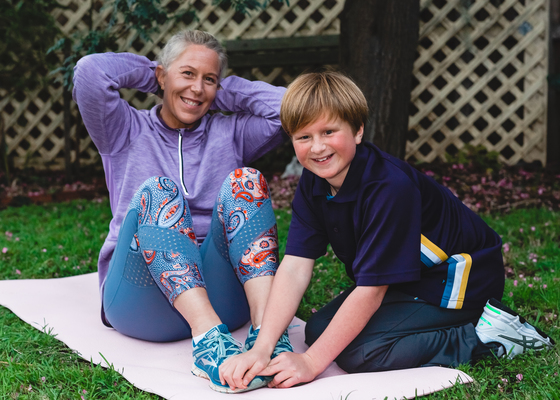 By Luke Voogt
Ami Hodgkinson admits she set the bar "a little low" in her quest to raise money for cancer charity Redkite while aiming for "washboard abs".
The Ocean Grove mum set a modest target of $100 as she began doing 60 crunches a day for a total of 1800 in June.
Ami had raised more than $400 by Wednesday, smashing her initial target in days.
"I'd have to do more than one month to get a six-pack though," the 47-year-old laughed.
"It's such a hard time for people, so I didn't expect to raise any money," she said.
"My friends and family are amazing people."
Ami remembered feeling "numb" and "overwhelmed" when Cody, now 13, was diagnosed in 2009 with Retinoblastoma, a rare form of eye cancer in children.
Cody spent just six weeks of 2010 at home during 12 months of chemotherapy and other treatments.
"They had to attack his cancer really aggressively," Ami said.
A single mum at the time, Ami gave up work to drive Cody to hospital and care for him.
"This is what people whose kids are diagnosed face every day – all of a sudden you have no income," she said.
But Redkite helped by paying about $1500 in bills and Ami now hopes to raise that amount for a family fighting cancer.
During the treatment, Cody lost some of his hearing and at one point could not walk for six months.
But he has since recovered and has even played state-level inline hockey.
The cheeky youngster promised to remind mum to keep up the crunches.
"I've got faith in her, not much, but a bit," he said.
"According to mum Redkite helped with a lot of things, so it's good she's helping other mums."
To donate: crunch4kids.redkite.org.au/fundraisers/amihodgkinson