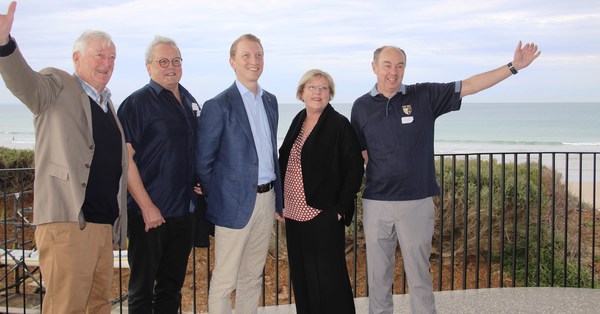 By Mark Heenan
Surf club members, club management committee, parliamentary dignitaries, Barwon Coast committee of management and council personnel opened the new Ocean Grove SLSC clubhouse facility on Sunday 7 July.
State Minister for Police and Emergency Services and Member for Bellarine, Lisa Neville unveiled a plaque to mark the opening of the state-of-the-art and fit for purpose clubhouse.
Liberal Senator for Victoria James Paterson, OGSLSC president David Pavia, Chair of Barwon Coast Committee of Management Phil Emery and Bellarine Ward councillor Jim Mason were in attendance and delivered speeches at opening.
Ms Neville thanked the wider Ocean Grove community and surf club personnel for their involvement in delivering the facility.
She said with OGSLSC's current membership base boasting around 1000 members and about 350 of those junior members, it will provide year-round facilities for Ocean Grove locals and wider residents to enjoy.
"This fantastic facility is testament to the community and club working together to ensure the safety of locals and visitors for many years to come," Ms Neville said.
"The club has been keeping beachgoers safe for the past 70 years and in the past 25 years, club membership has quadrupled.
"These new facilities will help its many loyal members continue their wonderful work.
"The old clubhouse had a long and distinguished history, but no longer served members' needs.
"This new facility will deliver a much-needed boost to volunteers, Ocean Grove residents and visitors to the Bellarine Peninsula."
The state government provided more than $4 million including the club's new patrol tower in use since last summer, while the federal government allocated more than $1 million and City of Greater Geelong provided around $150,000 in funds to new building.
OGSLSC president David Pavia was thrilled with the clubhouse opening and use of its new facilities.
"We are delighted by the new facility and looking forward to a great summer with better facilities for all," Mr Pavia told the Voice.
Mr Pavia said the new facility was capable of hosting small function to major community events.
"The building can cater for the community and for large events as well as small (events) – I think she (Ms Neville) is pleased it is such a great community asset," he said.
The new building replaces the one which was more than 25 years old and opened by former Victorian state premier Jeff Kennett.
The old clubhouse was no longer fit for purpose, and catered for around 250 members at the time of construction in 1994.
Construction on the new Ocean Grove Surf Beach Complex commenced in May 2018 with builder Ireland Brown Constructions given the task of the project build.
The new Ocean Grove Surf Life Saving Clubhouse building was completed in mid-June this year with the surf club's administration headquarters moving from its temporary base at Smithton Grove to the new surf complex along Surf Beach Road.
IN other club news, Ocean Grove SLSC will hold its annual general meeting on Sunday 21 July at 10.30am at its new clubhouse.