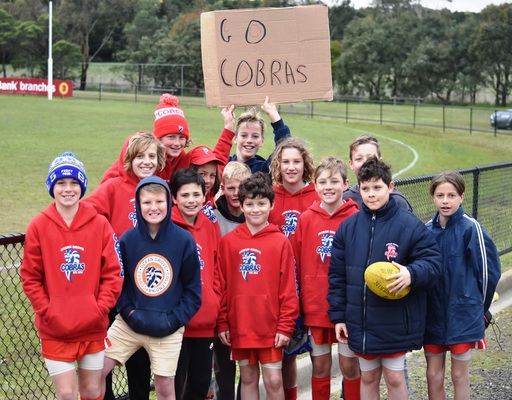 By Mark Heenan
Ocean Grove Cobras Junior Football Club has thrived in 2019 with record club participant numbers.
The Cobras' junior season came to an end on Sunday 1 September with Under 13s teams including Division 7 Every and Division 4 Pearson teams both going down in preliminary finals at Modewarre.
Ocean Grove Cobras JFC president Shaun Stow said despite no top aged Under 13s sides making grand finals it was an extremely successful year.
The Collendina Reserve based club fielded 16 teams from Under 9s through to Under 13s and had more than 550 youngsters participate in junior football competitions this year, including its popular Auskick program.
The Cobras had four Under 13s teams, three Under 11s sides, three Under 10s teams and six Under 9s sides which competed across AFL Barwon wider Geelong based junior competitions.
Stow said there was a big emphasis on participation.
"We have record numbers (with) over 320 kids and (247) Auskickers," Stow told the Voice.
"Our big focus is participation in the area, we are really happy that we have set up a program and the resources to allow 16 teams to play competitive footy and our kids and parents to have a great experience at the Cobras."
He said the Friday night Auskick program was 'buzzing' with enormous numbers including parents and volunteers in attendance to build a positive club atmosphere.
"We got some great participation and great social activities (afterwards) that parents stuck around and experienced the Cobras' culture," Stow said.
Club coaching and director of football, Cameron McGregor, said one of the key objectives met was to ensure youngsters had an opportunity to play junior footy every week.
"Every week, everyone has got a game of footy, we just might play 21 (players) some weeks, 23 (players) the following week depending on our numbers," McGregor said.
"No one has missed out on a game of footy as it currently stands."
Stow said the club's new lighting facilities upgrades over the off-season at Collendina Reserve will ensure the future of its junior football program remains strong.
"With our four new lights going in early next year (means) Friday nights under lights with Auskick (will be) a really buzzing place," Stow said.
"Our expectation (is the) lights will be in around February next year."
MEANTIME Collendina Reserve hosted week 1 AFL Barwon junior football finals on Saturday 24 August and Sunday 25 August.
The Cobras' venue hosted 10 finals' games across two bumper days.
"The feedback we got from all the clubs involved was I suppose a real positive towards how well we managed the finals as a club and the ground facility was in fantastic (condition)," Stow said.
"It was a great opportunity for us to showcase our club."
NEXT season the Cobras will introduce a junior female footy to its program with the club likely to boast girls' teams at Under 12s and Under 10s age levels.