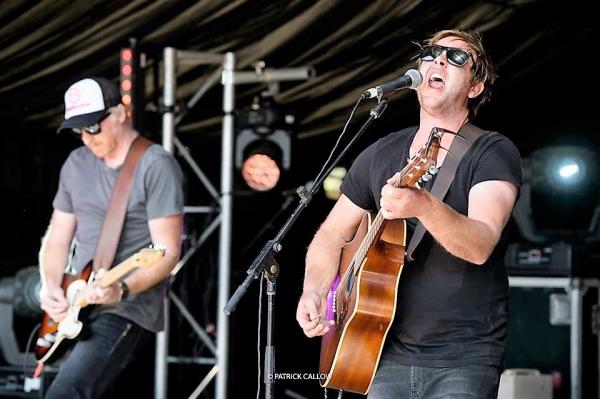 Like all local bands,10 High Fly has had a tough 2020.
The trio of Sam Hanson, Paul O'Reilly and Mark McLeod had a string of live gigs abruptly cancelled when COVID-19 hit. Justin Flynn sat down with lead vocalist and Ocean Grover Sam Hanson to chat about the band's new album and what's in store for the future.
It's been a tough year for everyone, but I guess it's been super tough for local musos?
2020 was going to be a huge year for us gig wise. We were going to be flying this year. We had festivals and gigs booked in and then there were 52 gigs cancelled in three days. When venues can't open, you can't play gigs so it was getting a bit heartbreaking. You plan a massive year and we were starting to get some really good traction.
During all this you have managed to release an album?
We have 11 songs on the album called Rollercoaster. We did everything remotely and did it all ourselves. I recorded in my home studio, Paul O'Reilly mixed and produced the whole album, Mark McLeod did the drums all from their home studios. I reckon it took a solid year and a half to two years to really kick this album in the guts. We faced hurdle after hurdle. People let us down recording-wise, people not taking us seriously and then we said 'stuff it, we're just going to do it all ourselves now'. I wrote the songs, Paul put the music to them and Mark did the drums and we ended up with an album. The songs span at least 20 years. Rollercoaster was the first song I ever wrote. So there are songs on the album that are from 2000 and from 2019.
Was it tough to produce an album with very little face-to-face contact?
In some ways yes. We made a conscious effort not to mention COVID, not to mention isolation, not to mention lockdown because everybody's talking about it. We were so over it. We said at no point are we mentioning anything about COVID in any meetings we had. It worked out great because every time we met up, we weren't allowed to talk about COVID and it was great for the album because we just concentrated on that.
Are you itching to play again?
We played an impromptu gig at the Hop Inn on Saturday and it was so good. They had two sittings, one from 12- 2 and then 2-4. We didn't realise that though. After the first sitting everyone's just walked out and we're going 'are we no good?' Is this really bad?'. But then they're like 'no, no we're changing over' and then everyone piled in.
How did that gig go?
It felt so good and so right. I think everyone enjoyed it. Even if they didn't that's okay. We want to give back to all the locals, businesses, radio stations, people and friends who have supported us, not just during COVID, but our whole journey.
Back to the album, when I have a listen to it, what am I going to get?
We got asked a while back what genre the music is. All of us have so many different influences in music so we just put the whole thing into the album. We've got some folk songs, rock, country, blues, roots …the whole thing is all over the place, but the way Paul put it together, he just brought it out beautifully. It had nothing to do with making money. The number one driving force behind bridging this album out was to have something for us and to play festivals. So if we've got an album that's got all these different genres on it, then we can apply for a Port Fairy Folk Festival or the blues festival up in Byron.
What's coming up for you guys in the near future?
We are going to play anything we can and apply for everything. It's not money orientated in any way. These guys have played music longer than me. We've had enough of not playing in front of people so let's get out and do it. We just want to get out there and play for the rest of the year and get our names out there so we can play as much as possible next year.
What's the most memorable gig you ever played?
It wasn't a gig, but I played at Geelong train station one day in 2016 on a day before Geelong played Richmond in Melbourne.
The platform was packed with people going to the game. They seemed to enjoy it, but they'd all just get on the train when it pulled in and I didn't get much of a reaction. Then a train pulled in and a young woman got off. She'd obviously come back from Melbourne.
She listed for a bit and then started clapping and soon everyone was clapping. It was unreal. I went up to her and thanked her for it.
She broke down in tears and gave me a hug and said she had come from The Alfred (Hospital) and had just lost her dad. It was very emotional. The fact that she took the time to clap me when that had just happened to her.
Where can we listen to Rollercoaster?
All the music platforms. Spotify, Apple music.