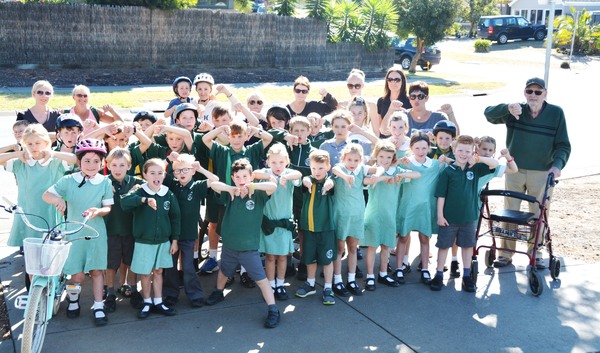 By Justin Flynn
Ocean Grove residents are pleading with council to install a pedestrian crossing on Kingston Downs Drive before it's too late.
The road, which services the rapidly expanding Kingston Estate, is used by schoolchildren riding and walking to two local primary schools.
Elderly residents are also frustrated at having to cross the increasingly busy road to access Marketplace Shopping Centre.
The Voice went to Kingston Downs Drive at 3.30pm on a school day and saw at least 80 primary school children struggling to cross the road during a 20-minute period.
Kingston Estate communications manager Allason Lynch said there was an urgent need for a crossing.
"As the developer, we've known that there was a need for this for the last four years," she told the Voice.
"We get complaints from motorists, residents and parents who come into our office asking 'why isn't there a crossing?'.
"Four years ago we approached council and they told us there wasn't a need but it's evident now when you've got buses and cars, there's a need for a crossing."
A petition calling on council to install at least one pedestrian crossing on the road has attracted more than 450 signatures.
Reg Costin is nearly 90 and lives on Kingston Downs Drive, but must cross the street to access the supermarket.
He uses a walking frame and can't use the footpath because he cannot navigate the curb so he walks along the bicycle lane before attempting the cross the road.
"It's the only outlet of all the Kingston subdivision right through to the new shopping centre," he said.
"There's no other road, this is the one and only outlet.
"It's a terribly busy intersection. It (the crossing) would be great for everyone and it would slow the traffic a bit. The traffic here of an evening, they go like buggery."
Peggy Peril has children who go one of the two the nearby primary schools.
"It's an extremely busy road, our street comes off just here," she told the Voice.
"In the mornings and afternoons it's impossible to get out and if I can't get out in a car, how can a child cross the road safely?
"There are so many kids who cross here who ride their bikes or walk to school. We try and encourage our kids to walk to school as much as possible so they can get some exercise and it's a dangerous prospect. There are so many curves and bends in this road, it's very difficult to see.
"I see so many elderly walking with their walking frames on their motor scooters trying to cross this road because they come and do their grocery shopping here.
"It's a scary prospect and we just hope there isn't a tragedy because it's becoming a very busy area and more built-up. I've almost run over a child coming out of my street."
City of Greater Geelong Director City Services Guy Wilson-Browne said council would investigate the options for a pedestrian crossing over Kingston Downs Drive.
"We will be working with the community to determine the best location for any crossings and the most suitable treatment option," he said.
"This will include consultation with residents and public transport operators.
"We will be prioritising these works in response to community concern and increased pedestrian traffic in this area."