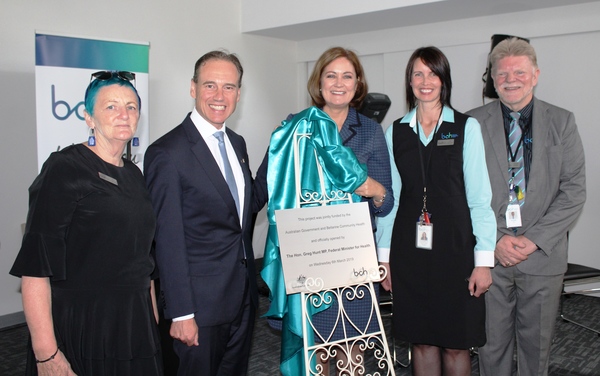 Bellarine Community Health's redeveloped Community Health Centre at Point Lonsdale was officially opened last week by Federal Health Minister Greg Hunt.
Residents, community leaders and political representatives joined the BCH Board, Community Advisory Group, local residents and staff to mark the official opening.
Federal Minister for Health Greg Hunt, along with the Member for Corangamite Sarah Henderson were given a tour of the new buildings.
Mr Hunt said Bellarine Community Health was on the right track in evolving the primary health care model.
He congratulated Bellarine Community Health on bringing the new facilities to the communities on the Bellarine and providing a one-stop-shop health care facility.
The redevelopment was jointly funded in conjunction with a Commonwealth grant and financial contributions from Bellarine Community Health.
BCH CEO Shane Dawson told guests the official opening of the redevelopment was just the beginning for the Point Lonsdale/Queenscliff site.
"Our vision is to create a community health hub that will benefit all communities on the Bellarine," he said.
"This redevelopment has allowed us to enhance our allied health services, created more clinical spaces, expand our dental facilities including an additional dental chair and given us a wonderful large gymnasium which will be available for public use."
Bellarine Community Health is seeking funding assistance to undertake the next phase in its community health hub vision.
Plans include refurbishing the Coorabin Building as a sub acute care/step down and visiting specialist facility, providing comprehensive health care to the community on the Bellarine.