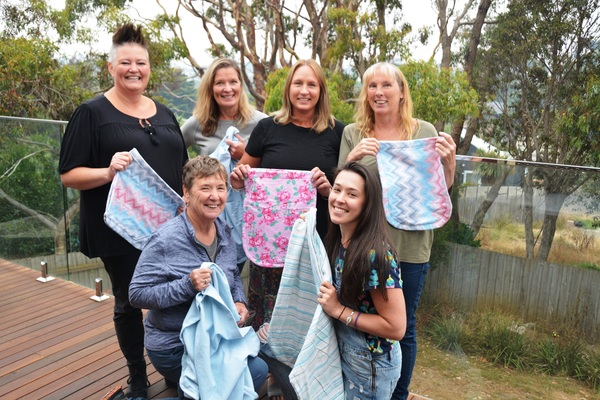 By Justin Flynn
A group of local residents have formed to make pouches for animals that have been injured and orphaned in the Victorian bushfires.
Around 40 people met in Ocean Grove to make around 200 pouches.
There have been reports that more than half a billion animals have been killed in the fires with countless injured and orphaned.
Sarah Muling said participants didn't need to have sewing skills to join in.
"We've got heaps of people who are crafters and noncrafters and people who are supplying food," she said.
"Everyone wants to help in any way they can.
"People who aren't sewers are, for example, cutting out patterns and doing non-sewing jobs.
"People who have machines are doing the sewing."
The idea was inspired by the Animal Rescue Craft Guild (ARCG) Facebook page. ARGC has nearly 100,000 followers.
People from all over the country are making different types of pouches or nests for injured wildlife.
"Knitting crocheting sewing and all going to hubs where they are being distributed to animal rescue centres where they are being used," Sarah said.
"A pouch is a fabric bag that is made of three layers. A little joey who has lost its mum can sit in the pouch."
Sarah said people can look on the 'OGBHers crafting for bushfire injured animals' Facebook group if they want more information about upcoming sewing bees.
"When the fires started going off and getting a lot of attention, the growth of the guild online has been massive," Sarah said.
"It's become apparent recently as the situation has grown so much that there's a massive need.
"They need so much more than what they are getting and this is just a nice way that people can contribute their time or their resources.
"And from a sustainability perspective we are using old bed sheets and fabric that people don't want or can't use."
Sarah said the day was a success and more are being planned.
In the meantime, Sarah said the ARCG Facebook page has instructional videos on how to make a pouch from home.
"A really big thank you to the 'Feed Me' team at 'susty hub' for their generous food donation, the Salvation army for some supplies and Members of the community for their supplies," Sarah said.