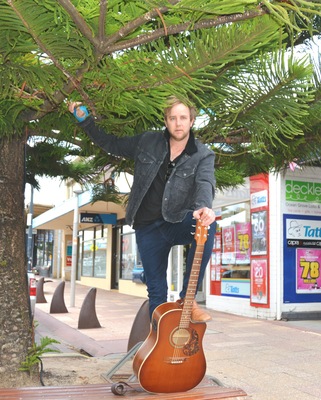 By Justin Flynn
Something's in the way as I greet Sam Hanson with a handshake in his home town of Ocean Grove.
He has a bright blue cast on his right arm after a gym boxing accident. His broken scaphoid wrist bone will stay in plaster for 12 weeks.
This would normally be a problem for a guitar-playing singer-songwriter but Sam found a way around it.
"I've played a few gigs with other people where I just sing, which is cool because I'm not hiding behind the guitar," he says.
"I played a gig not long with Will Gardiner, who's in a band called Famous Will. We've been mates for a long time and he rang me and said he had laryngitis.
"He said, 'I can't sing and I know you can't play guitar,' so we went to the Torquay pub for a gig and had an absolute ball".
Despite nearing his 40th birthday, Sam is a newcomer to the music scene.
"I reckon I've been doing for four and a bit years now," he says.
"I've always played guitar and I've always sung in the bedroom by myself growing up, but I was always so sports-orientated.
"My wife got sick of me writing songs and not doing anything with them, so she gave me a couple of recording sessions and it just boomed from there."
Now an accomplished solo performer and leading man for the band 10 High Fly, Sam has played twice at Kardinia Park at Geelong Cats games.
"I went from not singing in front of anyone to singing in front of 32,000 people," he says.
"We played in front of 32,000 at Kardinia Park and then the next day I played in front of three at a pub.
"If you think you're too good to play in front of two or three people you don't deserve to be playing in front of 30,000."
A former landscaper from the Yarra Valley, Sam moved to Ocean Grove 13 years ago.
He says he's comfortable on stage now, but it wasn't always the case.
"I've gotten to the point where I'm at an age where it doesn't faze me too much now.
"I've always told my kids that it's good to be nervous because it means you care.
"I realise that some people are never going to like my music, some people are going to love it and some will say they love it and have never heard it.
"I do it because I love it. I never thought I could find so much passion in something."
Same gave up landscaping three years ago to focus on music.
"I was falling asleep on the couch at 7.30 and then having to go and play a gig at 8.30."
Sam, who says 95 per cent of the songs he sings are self-written, considers the Geelong music scene vastly underrated.
"The musos in Geelong are unbelievable," he declares.
"There are so many of them and there's so much good talent."
Sam, who describes his music as folk-rock, would like to play more festivals.
"You're among peers and friends but you also play and then you can go and watch all the other bands play.
"People are genuinely there for music."
Sam couldn't imagine living anywhere else than Ocean Grove.
"I like the buzz," he says.
"In summertime people say they get sick of the tourists but I love it.
"I love walking down the main street and realise I live in a town that other people visit only on holidays."
A relative newcomer to the music scene, Sam Hanson is making sure he enjoys every moment. (Justin Flynn)
195208