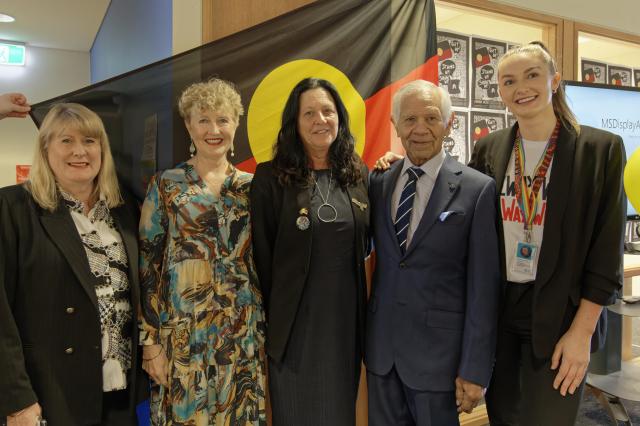 This event at MacKillop Family Service's Geelong office in Helen Street is to celebrate NAIDOC WEEK.
MacKillop Family Services celebrated NAIDOC Week at its Geelong office with a lunch attended by Australian Football Legend Uncle Syd Jackson, and young people who spoke about the importance of connection to culture while in out of home care.
Mr Jackson has been tireless in his work with young people in care. He has recently taken part in a bush tucker bake off with young people across residential care homes and in foster care with MacKillop Family Services. He is an Elder and advocate for young people in care.
"This year's theme for NAIODOC Week is Get Up! Stand up! Show Up! We all must continue to Get Up! Stand Up! Show Up! for systemic change and keep rallying around our mob, our Elders, our communities," MacKillop Family Services CEO Dr Robyn Miller said.
"For MacKillop, this is particularly important in Barwon , where so many young people in out of home care are from an Aboriginal and Torres Strait Islander background.
"We understand the importance of cultural connection and we are currently working on our Second Innovate Reconciliation Action Plan which will help ensure our work is culturally safe across MacKillop.
"One of the most important things we can do is listen to the voice of children and young people, and today we have a real treat with the opportunity to hear from a recent care leaver about the importance of cultural connection as well as reflecting on the experience of Australian Football legend, Uncle Syd Jackson, who is here to tell us about his work advocating for young people in care".
Lunch was provided by Indigenous owned and run caterer, Mabu Mabu.
Guests included The Hon Christine Couzens MP, Member for Geelong, Parliamentary Secretary for First Peoples, representatives from Wathaurong, and the Department of Families, Fairness and Housing as well as staff and foster carers from MacKillop Family Services.