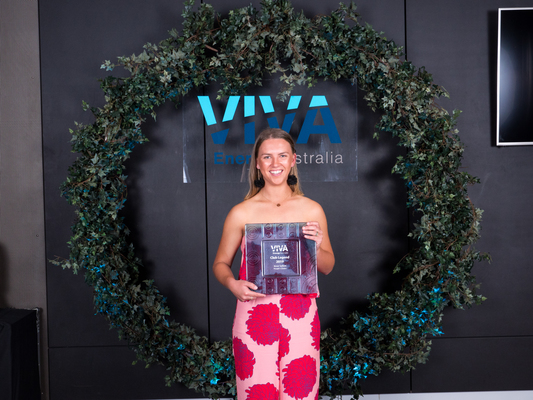 Ocean Grove netballer Jesse Sutton has become the Geelong public's favourite sporting volunteer, winning the People's Choice category at the Club Legend Awards.
Almost 4000 people voted in the poll, choosing Jesse for her work at Ocean Grove Football Netball Club, along with St Albans Football Club member of 75 years Cliff Grinter.
The male and female winners took home $2500 each for themselves and their clubs at an awards night at GMHBA stadium last Wednesday.
Jesse heads her club's social committee, coaches multiple netball teams, plays C grade and holds various other positions.
"At only 21 years of age, Jesse does an enormous amount for our club," her nominator said.
"She has played and coached since her junior years at the club. Over the past few years she has taken (on) more and more responsibility.
"Jesse is the sweetest girl and is so well-liked around the club. We are truly lucky to have such a positive and hardworking member like her."
Lara Giants Basketball Club's Lorraine Kulic and Try Boys Allen McKee won the Club Legend Awards' top prizes of $5000 each for themselves and their clubs.
Geelong Touch Football Association president Rohan Greaves and Geelong West Giants' head of football Sarah Naylor won the all-new Trailblazer awards.
The awards, for volunteers aged 18 to 35, saw both win $2500 for themselves and their clubs.
The category winners and finalists shared in $55,000 in prize money for themselves and their respective clubs from Viva Energy.
Viva's Geelong refinery general manager Thys Heyns described the awards as an incredible celebration the finalists' dedication to their community.
"Volunteering is such a crucial aspect of life in Geelong," he said.
"So it's great to have the chance to celebrate the hardworking people who contribute so much to their clubs, their communities and their sports.
"Viva Energy is incredibly proud to recognise these incredibly deserving winners of each category, as well as acknowledge all of the finalists and nominated volunteers.
"The sporting community of Geelong wouldn't exist without these individuals, who are all legends in the eyes of their nominators, members and clubs they represent."