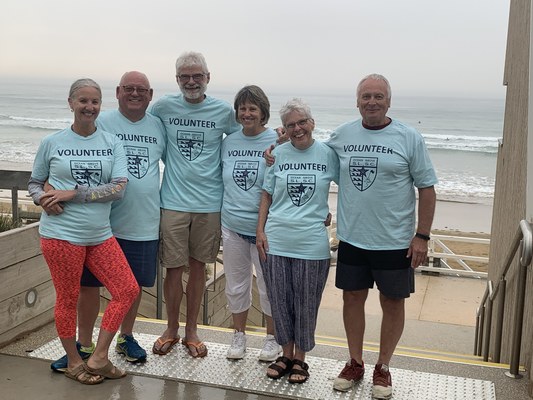 Ocean Grove hosted the Bellarine Peninsula's first ever Open Water Grey Medallion program recently.
The program was delivered by Life Saving Victoria and it aims to raise water safety knowledge and experience in those aged 55 and older.
With almost 20 per cent of Ocean Grove's residents aged 65 and over, and with the local beach being one of the most popular in the state for visitors, the course was a timely reminder to play it safe by the water, particularly for those who supervise grandchildren around water.
"I wanted to get more involved in the surf lifesaving club and I've seen the results of their work and they have been fantastic with their volunteers in the community," participant Chris Klitzing said.
"It's been invaluable – how to read beaches, how to read all the different types of rips and waves. Even for your own safety."
Life Saving Victoria's aquatic research manager Rhiannon Birch said : "Even older people who don't go swimming in the ocean will benefit from the program.
"That's because the most common factor contributing to drowning incidents in older adults is unintentional entry into the water after a slip, trip or fall."
Ms Birch said other contributing factors include underlying medical conditions, a reliance on water-safety skills gained earlier in life, an overestimation of current abilities, reduced fitness levels, and increased exposure to water through aquatic activities and time spent near water following retirement.
The program is based on the Royal Life Saving Society's successful Grey Medallion program – a water safety and lifesaving skills program, with the aim to reduce drowning deaths while encouraging social connection and a healthy, independent and active lifestyle.
It was developed by Life Saving Victoria in response to an alarming spike in the drowning rate of Victorians aged 65 years and over, which continues to rise.
If you are interested in registering for an upcoming program or want more information, phone 9676 6945, email membershipandleadership@lsv.com.au, or go to the app at beachsafe.org.au.