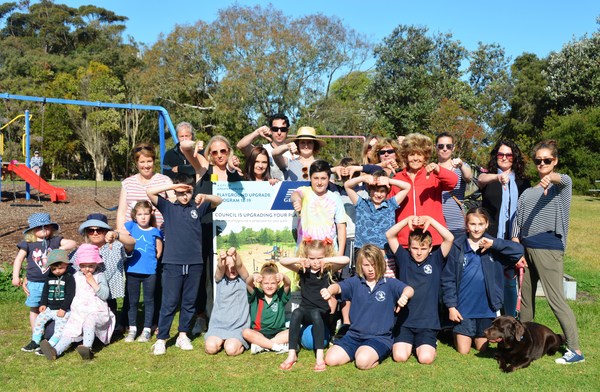 By Justin Flynn
A group of locals have been left baffled that Ocean Grove was still without a playground equipped with toilet facilities and sun protection.
Council has committed to upgrade the playground facilities at Lake Avenue Reserve, but the group says it doesn't go far enough.
The reserve lacks toilet facilities and shade Rachael Punchard told the Voice.
"We have to go Barwon Heads for a decent playground," she said.
"And if we do come here, the kids have either go to the toilet in the bushes or we have to load them into the car again and take them home so they can go."
Ms Punchard said the council upgrade of the playground at Lake Ave was insufficient, was uninspiring for children and was "like for like".
"There's so much space here, it's so beautiful, but there's nothing here to spark the kids' imaginations," she said.
"The equipment is being replaced with something exactly the same.
"Kids are playing in the bushes. They need tunnels and cubbyhouses and places to hide."
Ms Punchard said she would prefer to see natural materials used in the upgrade and sand
Sali Williams said the lack of shade at the playground often mean that even on a 21 degree day, the equipment becomes too hot to use.
She often takes her children to Barwon Heads' pirate park or foreshore park, where there are toilets and sun protection.
"There's no point having a barbecue here because there are no toilets and no shade," she said.
City of Greater Geelong acting community life director Robyn Stevens said there were no plans to install a toilet block at Lake Avenue Reserve, but said additional trees will be planted in the area to offer shade, particularly around seating.
"Lake Avenue Reserve is receiving a $100,000 playground upgrade. Brand new additions to the playground include a flying fox and all-ability access to the nest swing. Equipment being replaced includes slides, agility equipment and a play shop," Ms Stevens said.
"The City manages approximately 300 playgrounds, and allocations are made to each facility based on whether they are designated as a local, district, sub-regional or regional park. This ensures consistency for families across the Greater Geelong region."
Ms Stevens eased fears that the current basketball ring would be removed.
"The basketball space will be upgraded with plexipave surface and new line marking," she said.
Ms Stevens said Kingston Park has been identified as a sub-regional play space, and is set to receive a $350,000 upgrade in the coming months.