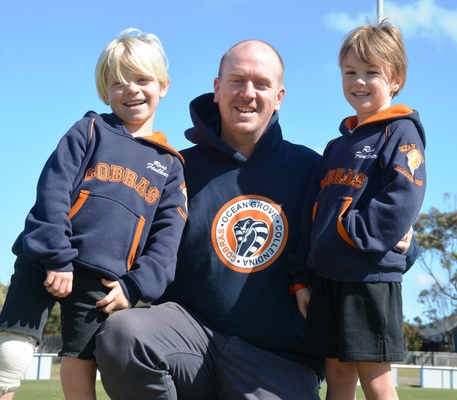 By Justin Flynn
Chris Dooling was "overwhelmed and a little bit embarrassed" when he found he won the Auskick Coach of the Year award.
Despite not having played Australian Rules football since his under 18 days, Chris has spent countless hours helping the very youngest Cobras go through their drills on Friday nights during footy season.
"I ended up getting the award, but I don't really consider it mine," he said.
"It's for the whole club. The helpers and the coaches and volunteers who make it what it is."
Chris was surprised at being named the coach of the year at AFL Barwon's awards night on 3 October.
"I didn't even know Cam (McGregor) nominated me," he said.
"Like I said, it's not just my award, it's for everyone. The whole club has just done an amazing job in getting around 200 young kids to enjoy their footy.
"From the volunteers, coaches, parents and the people who run the canteen, it's a total team effort."
Chris said the key to coaching Auskickers was to "just let them enjoy their footy".
"We rotate them around and give them all an equal go," he said.
"As long as they enjoy it, that's all that matters to me."
Ocean Grove Collendina Cobras has also received a $200,000 grant to install new lighting on its reserve as part of the Pick My Project funding. See page 1 for the full story.