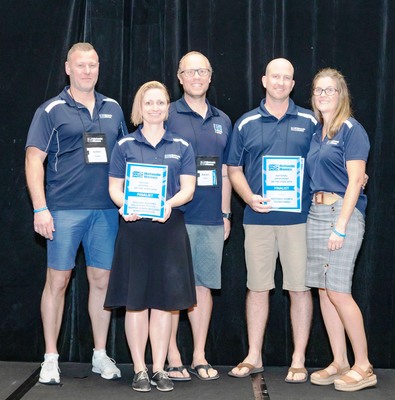 It's been a big year for the team at Hotondo Homes in Ocean Grove, and now they have another reason to celebrate.
Local builders Andrew Hopper and Aaron Anstis have just returned home from the Hotondo Homes National Conference in Singapore where they were named finalists for both the Professional Builder of the Year (VIC/SA/TAS), and the Shopfront of the Year.
It's the fourth year in a row the team have been named finalists for the prestigious tri-state based award.
"To hear our names read out was such a big surprise. We were up against some amazing builders across three states," Andrew said.
"We always strive to be the very best we can be, and to be recognised for that is an incredible feeling."
"Being acknowledged for our efforts as a small, family business is one of the best compliments we could ever receive," Aaron said.
"It really confirms the hard work of our fantastic team and it provides them with the recognition they deserve".
The team was judged on a number of criteria, including customer service and satisfaction, the quality of their homes, market share and overall excellence within the business.
Andrew and Aaron credited the work of their staff, trades and suppliers for helping them receive the esteemed accolade.
"It's a credit to the people we work with and the clients who allow us to join them on their new home journey," Aaron said.
The team's shopfront was honoured for its creative layout and the inviting atmosphere it offers potential clients.
"We take a lot of pride in our Shopfront, it offers such a welcoming environment for our clients, and to be awarded for that is truly humbling," Aaron said.