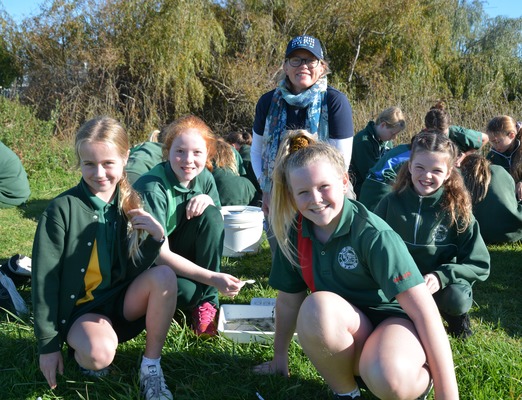 Our Lady Star of the Sea Primary School celebrated 10 years of environmental activities at the Bonnyvale Wetlands in Ocean Grove.
Our Lady Star of the Sea principal Kerryn Sells said the site had made a real connection with students and parents alike.
Families went to Bonnyvale Wetlands and participated in indigenous plant revegetation, waterwatch and litter management activities.
"The City has supported Bellarine Catchment Network and Star of the Sea in a yearly planting and activity day at the wetland since the beginning of the program," City of Greater Geelong Director City Services Guy Wilson-Browne said.
"Over the past 10 years 3000 plants have been revegetated around the wetlands.
"This filters nutrients and sediments, keeping the water quality in the wetlands healthy and protecting biodiversity values."
"Students learn about the flora and fauna species that call the wetlands home," Bellarine Catchment Network Program Manager Matt Crawley said.
"From growling grass frogs to swamp harriers, wetland invertebrate species to the plants that have adapted to a wetting and drying cycle".
The Bonnyvale Wetlands play an important role in healthy waterways and biodiversity that connect to Swan Bay, a Ramsar Wetland of international significance.
For further details contact Our Lady Star of the Sea on 52554308 or Bellarine Catchment Network on info@environmentbellarine.org.au.