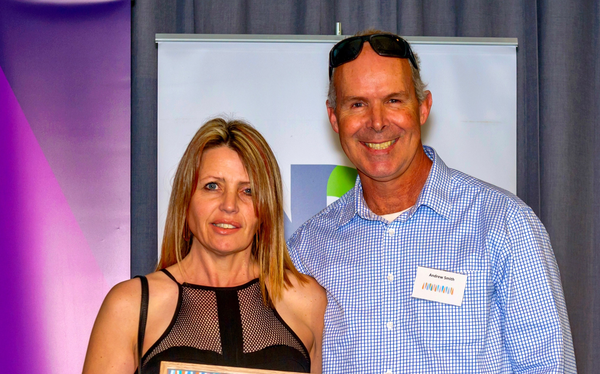 by Luke Voogt
Tourism in Geelong and on the Bellarine Peninsula has jumped by 12.5 per cent, with 5.9 million people visiting in 2018/2019, according to City Hall.
Ocean Grove tourism operator Christine Smith welcomed the increase, which she said had in part resulted from new international flights from Malaysia to Geelong.
"One of the underlying reasons for the increase would be the introduction of international travel at Avalon Airport," she said.
"It's creating a positive ripple effect for tourism in our region."
Ms Smith credited the service's operator, AirAsia X, for its efforts to promote the Bellarine Peninsula rather than just Melbourne or the Great Ocean Road.
"They're showcasing our region as a destination, rather than just turning right to Melbourne," she said.
Ms Smith praised state-funded grants for programs such as Tourism Greater Geelong and the Bellarine's Destination Accessible.
"They're mentoring people on how they could be more inclusive and it's opening a new market segment for region, which will have an ongoing positive impact."
Ms Smith's multi-award-winning business Great Ocean Stays, which provides accessible accommodation, was benefitting from the tourism board promoting Geelong as a niche destination, she said.
Nature-based tourism was also increasing locally, she added.
The former policewoman described the increase as a great opportunity for employment and to mentor young people in the industry.
"We all need to look at tourism as a significant opportunity for careers – it's not just a stepping stone," she said.
Of those who visited Geelong and the Bellarine Peninsula, 5.5 million stayed overnight, worth $1.1 billion to the local economy and supporting 7500 jobs, City Hall said.
About 63,000 international tourists visited Geelong overnight in 2018/2019, while 209,000 stayed for a day, pouring $101 million into the local economy.
Chinese visitors now make up the dominant share of the overseas market, which has increased by 11 per cent, according to City Hall.
The total rise in visitors saw tourism jobs rise 28 per cent, City Hall said.
"Our stunning natural environment, vibrant CBD and award-winning wine region have really established greater Geelong and the Bellarine as a quality tourism destination," Geelong Mayor Stephanie Asher said.
"I'm pleased with these positive figures and feel confident our region can continue to improve and attract even more visitors over the next decade."