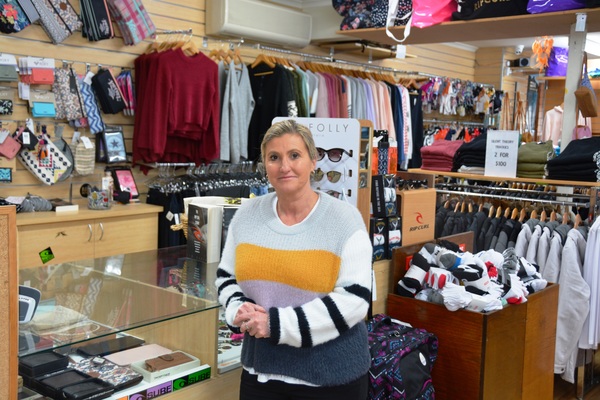 By Justin Flynn
A Drysdale business owner will be forced to close her doors if her shop is robbed one more time.
Naomi Patten, who runs Surf Junction, said a spate of break-ins had resulted in her insurance company refusing to cover her.
Ms Patten said she had lost $50,000 from the latest two break-ins, the last in March this year.
Surf Junction was ram raided in a brazen robbery in May 2016 and Ms Patten said that was the tipping point for her insurance company.
"I'm one major burglary away from closing up I reckon," she said.
"I don't understand why people think they have the right to steal from someone who is just trying to make a living and supports the community.
"I've got the latest in CCTV and just recently I've put lighting out the front, but it doesn't seem to deter anyone.
"People must see it happening but they turn a blind eye these days because they don't want to get involved and I don't blame them to be honest."
Ms Patten said shoplifting had also escalated recently.
"They might take some socks and it might only be a little bit, but it all adds up," she said.
"I have people who will come in with old thongs on, grab a new pair and put them on and hang the olds one back up and walk out.
"You'd be surprised how much it all adds up."
Ms Patten, who has lived in Drysdale all her life and has operated Surf Junction for 10 years, sponsors Drysdale and Portarlington Football/Netball Clubs and both cricket clubs as well as many other local organisations.
Drysdale netball courts are named Surf Junction Courts after Ms Patten became a major sponsor.
Ms Patten said a major burglary had other consequences, such as paying for clean up and replacing broken doors and glass.
Ms Patten said if she is forced to close her doors, it would spell the end of a decade of local business.
"I love it when people come in and I have a lot of people who come in and vent – it's a bit of a counselling session," she said.
"The girls who work here are locals and the holidaymakers who have come here the last 10 years – I've seen their kids grow up over that time.
"I've made a lot of friends."