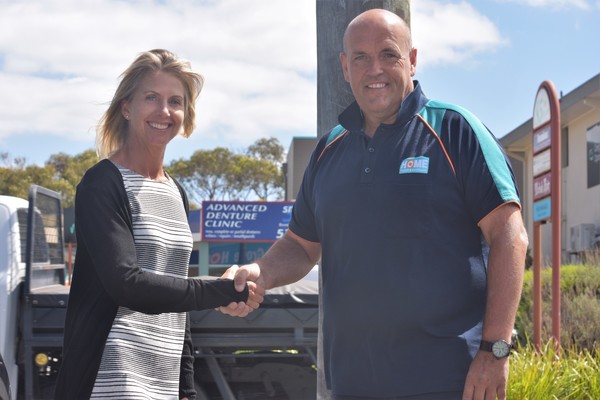 By Mark Heenan
Local people-power has won, with Ocean Grove traders and residents convincing councillors to reject a 20-metre phone tower controversially proposed to stand in the heart of town.
Geelong's council received 45 objections, with six councillors on a planning committee agreeing to stop the Optus and Vodafone tower being built on The Parade.
Retailer Paul Drake, of Ocean Grove Home Timber and Hardware, said common sense prevailed on concerns the development would damage the town's character.
"There wouldn't be a main coastal town anyway on its main drive aisle into the town (where you) have a 20-metre monstrosity as you drive in, and that is basically what we are all about it," Mr Drake told the Voice.
Hendry Bicycles owner Stephen Draper, whose shop is metres from the proposed site, was thankful council rejected the tower.
"All councillors decided unanimously that this was an inappropriate proposal from the telecommunications representative [Voda/Optus]," Mr Draper said.
"The siting of this proposal at the entrance to town ran contrary to the extensive Ocean Grove structure plan as well as the Ocean Grove Urban Design Framework [UDF] that City of Greater Geelong and the local community have been working on for many years."
A Telstra tower a few hundred metres further west was approved for The Parade in 2017.
Mr Drake acknowledged that Ocean Grove needed better phone coverage, raising the option for Optus/Vodafone users to 'cohabitat' with a nearby Telstra tower.
"Mobile coverage is something that needs to be addressed in Ocean Grove," he said.
"The scenario is there is a Telstra tower going in the car park at the toilet block and there are plenty of examples of cohabitation around Australia, so Vodafone and Optus users they certainly need good coverage as well.
"There are alternatives here and there are more appropriate sites."
Bellarine ward councillor Stephanie Asher, who chaired the council planning meeting, said the communication consultation process with residents was thorough.
"The community voiced their concerns and it was a really good process to show that involving the community in the development applications is critical," Cr Asher told the Voice.
"The visual impact in the centre of the town was the biggest concern given the seaside village nature and tourism appeal."