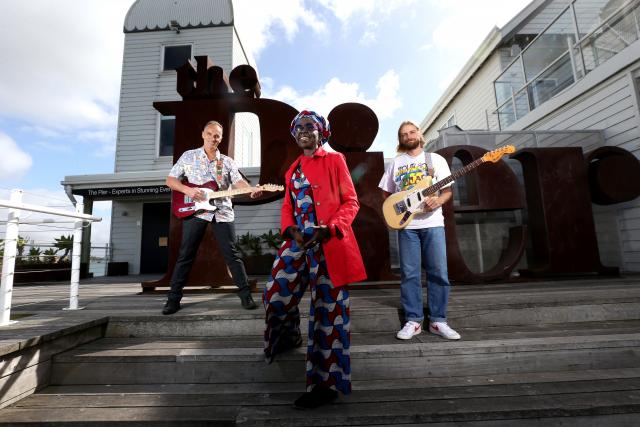 Elle Cecil
Some of Australia's biggest names in music have been gracing the Bellarine and Surf Coast this month, as the Surround Sounds Program kicked off on April 7.
Paul Kelly, Greg Gold and Stella Perry, Ngubitj Samgooan, Triple One, Gordon Koan and Akaj Kwai are just a few of the artists that have performed throughout the beginning of the program, with plenty of breathtaking acts to follow in the weeks to come.
A Day On The Green at Mt Duneed Estate will see Crowded House's Dreamers Are Waiting Tour with guests The Waifs and Angus and Julia Stone on Saturday, April 23.
An INXS Tribute Show will be held at the Potato Shed on the same day by band INXSive, bringing not only INXS's best hits but also the memorable theatrics and stage presence many will remember.
Among other acts, Keith Potger of The Seekers, Adalita of Magic Dirt and Norm Stanley with his didjeridoo will perform throughout the program. Human Nature, Agatha's Cantata Australian Chamber Choir, Tiana Zaljevic, Baraka the Kid, the Geelong Symphony Orchestra, and Kasey Chambers and Busby Marou will light up the stage.
City of Greater Geelong councillor Eddy Kontelj is chair of council's arts, entertainment and hospitality portfolio He says that the exciting live entertainment celebration marks the relaunch of Geelong's live music scene, which has long been a favorite feature of the city.
"The council and our arts and culture team have been working hard to rejuvenate an industry so badly impacted over the past couple of years," Cr Kontelj says.
"The live acts and performers [at Surround Sounds] are top class and there is sure to be something to satisfy everyone's taste in music. With our venues ready and welcoming, this is another step toward Geelong becoming the live entertainment hub of Australia."
Appearing at venues such as the Potato Shed, Geelong Arts Centre, City Hall, Geelong Botanic Gardens, Norlane Community Centre, Costa Hall, Narana Aboriginal Cultural Centre, the Portarlington Mill, Grove Pavilion, Piano Bar Geelong, Provenance Wines and the Barwon Club Hotel, this month of artistry and storytelling covers a wide range of locations to suit both locals and visitors to the region.
Concluding on Sunday, May 8, Surround Sounds: Geelong and the Bellarine Music Festival will strike a major note on the region's annual cultural calendar.
For more information on artists, venues, dates and tickets, visit www.geelongaustralia.com.au/surroundsounds.