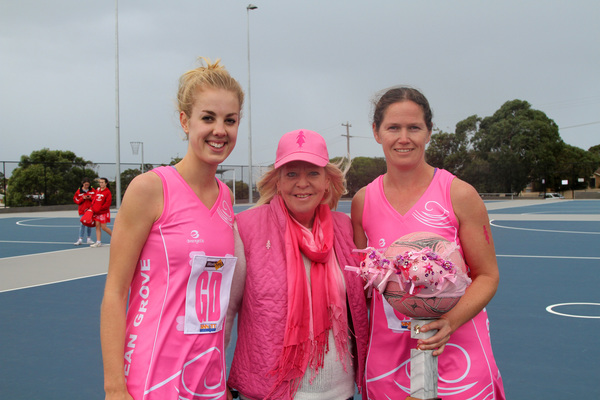 THE Ocean Grove Netball Club is inviting local women to Shell Road Reserve next month for its third annual Pink Day.
Netball committee member Tahlia Sinnott said the club was happy to support a good cause and celebrate "everything good about being a lady".
"It's nice to get all the local ladies together to get dressed up and have some fun," she said.
Last year's Pink Day raised about $2200, which the club donated to the Breast Cancer Network Australia (BCNA).
"There was huge support from the community," Tahlia said.
"It's been growing as time goes on."
BCNA member Julie Rodgers and other breast cancer survivors will attend this year's event, as well as representatives from the Knitted Knockers.
Knitted Knockers make 100 per cent cotton prostheses for women who've had a mastectomy.
"We are getting a huge amount of support from local businesses offering to donate food, items and services too," Tahlia said.
"There's already lots of talk about what people are wearing – to see who can be dressed in the best pink."
Tahlia is especially excited about holding the event at the newly finished Shell Road Reserve for the first time.
"It's great facility," she said.
"It's got a beautiful function room which holds more people."
The day will include massage and temporary tattoo stalls run by the junior teams and the afternoon will culminate in a high tea.
The netball players show their support by playing in pink dresses.
The afternoon begins at 2pm, 7 May, at Shell Road Reserve. Tickets $30. To book call Tahlia Sinnott on 0409 804 932 or Bree Frankhauser on 0425 695 520.